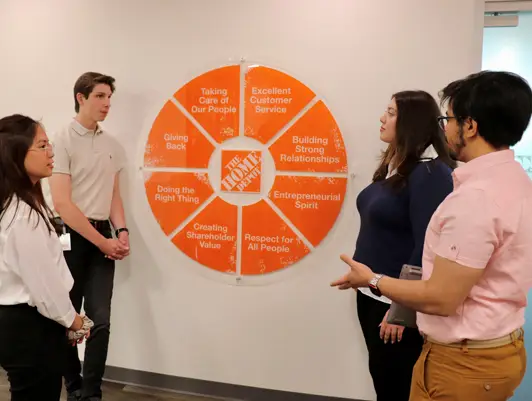 Internship/Co-op Program
The Home Depot Canada Internship/Co-op Program is a paid 16-week internship. Our intern associates are challenged to complete valuable and immersive projects that directly impact the business and are part of fast-paced teams with ample opportunity to grow.
Our intern associates are equipped with tools to establish the building blocks for their career and revolutionize the future of retail.
Follow the links below to learn more:

What To Expect
Our Commitment To You

Competitive Pay

Tuition Reimbursement

Matching Donations

MEDICAL & DENTAL COVERAGE
Come see what it's like to work at the world's #1 home improvement retailer. The Home Depot Canada has 182 stores in 10 Canadian provinces, employing more than 30,000 associates from coast-to-coast.
Our culture is supportive. Our people are amazing. And the work you do here actually influences our business.
Our Promise to You
When you join The Home Depot Canada as an intern or co-op student, you will have the opportunity to apply your skills from the classroom to real-life work. You will engage in tangible projects with meaningful impacts, while developing your skills and gaining insight into the areas of our business that are the most relevant to your career goals.
As the 16 weeks fly by, you will have the chance to apply what you know, pick up new skills, and collaborate with people across the company to make your projects come to life. It's a great way to meet our leaders and learn valuable leadership lessons from some of the best in the business.
Throughout the 16 weeks, you will also have the opportunity to participate in:
Senior Leadership Sessions
Development workshops on topics such as building your personal brand, collaboration to success and so much more
Formalized Mentorship Program
Learn about the Home Depot values with key business leaders across the company
Our Commitment To You

Competitive Pay

Tuition Reimbursement

Matching Donations

MEDICAL & DENTAL COVERAGE

What Past Students Are Saying

"From the first day at orientation, I could tell that the culture here was unique. Not only did I gain beneficial experience from my team, I also made great relationships I've continued past my internship. I'm so grateful for my time here and hope many more have the same experience I did!"
Cassandra
Digital Media Intern

"The internship provided me with valuable hands-on experience and gave me a better understanding of my strengths. Spending 16 weeks under the guidance of people who want to share their knowledge with you and help you become a better data analyst is invaluable. This experience exceeded my expectations and taught me skills that will help me further my career."
Siddhartha
Analytics & Data Science Intern

"The experience allowed me to achieve managing daily responsibilities and venture out to assist another team. This encouraged me to network and take opportunities. THD experience started with clear communication and passion for the interns. The experience has left me excited for the future, hoping to continue to work for The Home Depot in any capacity and learn."
Thanusha
Data Personalization - Data Quality Intern

Why Launch Your Career at The Home Depot Canada
1
Join the World's #1 home improvement retailer
2
Be apart of a supportive environment that allows you to learn, grow and develop
3
Get valuable work experience that supports your academic learning
4
Develop your skills and gain insight into the areas of our business that are relevant to your career goals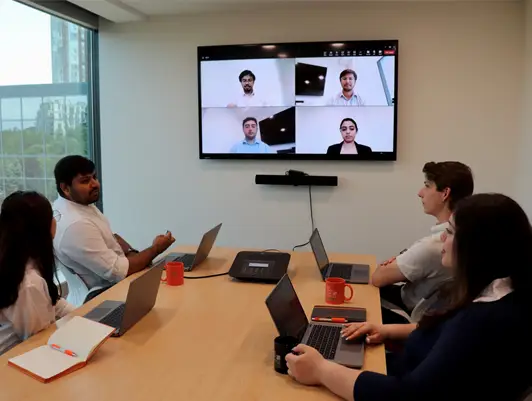 Your Opportunity Starts Here
Internship/Co-op Requirements:

To be considered, candidates must be enrolled in an undergraduate or graduate-level program at an accredited college or university in Canada.

Existing Associates:

If you currently work for The Home Depot Canada in one of our retail, supply chain, or contact center locations, please make sure to apply on Career Depot!

Questions:

Please reach out to our Internship and Co-op team at hdc_internshipcoopprogram@homedepot.com