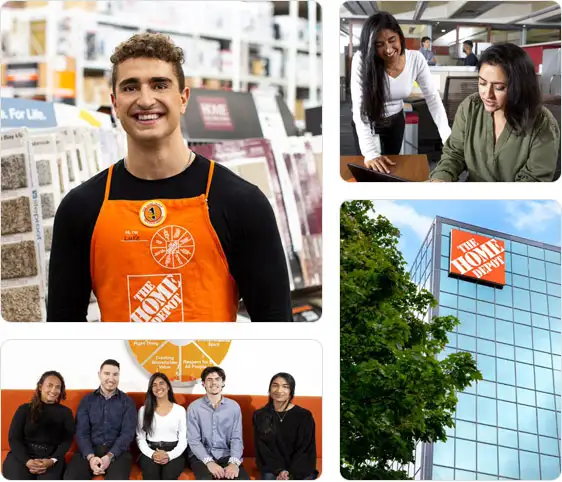 BEING A CONSCIOUS EMPLOYER
The Home Depot strives to be the best corporate partner possible in our communities. We make positive contributions as a neighbour, an employer, a retailer and as a profitable investment opportunity through the successful and strategic operations of our company.
What does it mean to be the neighbour of choice?

We're committed to giving back to the communities we serve by supporting the development of homes and communities through our associate giving and community grants programs. And by offering home solutions in your neighbourhood, we help customers fulfill their dreams of turning a house into a home.

What does it mean to be an employer of choice?

Our associates engage in meaningful and challenging work in an inclusive and associate-centered culture. Through training and leadership programs you'll have the chance to learn, grow and develop new skills.

We strive to provide economic opportunities through competitive wages and exceptional benefits packages to all associates. We recognize the contributions of our associates and reward their achievements, hard-work and dedication.

What does it mean to be a retailer of choice?

Our helpful and approachable associates consistently go the extra mile for our customers. That's how we live up to our commitment to provide excellent customer service every time our customers enter our stores.

We offer the right products, the right selection, the right prices and the know-how to complete any project, big or small. Our team of passionate associates builds lasting relationships by helping customers realize their dreams and by growing their trust through their skills and expertise.

What does it mean to be an investment of choice?

We deliver profitable and ethical returns for our investors. Every strategic decision we make reflects our policies surrounding social responsibility and considers the impact on our community. We are focused on growing comparable store sales through innovative initiatives to meet the needs of the customer to increase our economic bottom-line and our corporate reputation.